Warsztaty
Twój sekret IKIGAI
Twój sekret IKIGAI misja, pasja, powołanie, zawód. Twoje najważniejsze DLACZEGO – sens i radość życia.
Japoński sekret na szczęśliwe życie to IKIGAI. Poznaj i TY swój największy sekret, najważniejszy powód, dla którego codziennie warto budzić się i stawiać do życia. Każdy ma swoje IKAGAI. Ty też je masz.  Znalezienie go niekiedy przychodzi łatwo, czasem wymaga wysiłku.
Zapraszam, jeśli pragniesz poznać swoje IKIGAI, znaleźć odpowiedzi na pytania dotyczące Twojej:
MISJI
PASJI
POWOŁANIA
ZAWODU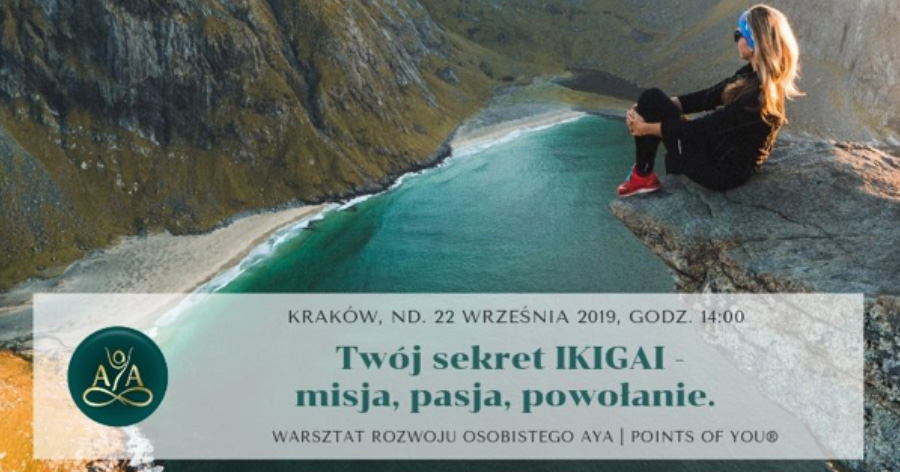 Gdy Twoja misja, pasja, powołanie i zawód są w równowadze, to w ich centrum znajduje się Twoje osobiste IKIGAI Twój klucz do dostatniego i radosnego życia.
Ten warsztat to MOC:
transformującego spotkania z samym sobą,
spojrzenia na innych, jak w lustro ukazujące naszą prawdę,
głębokiej podróży, w głąb siebie i sensu istnienia,
pracy z podświadomością poprzez obraz, słowo, metaforę,
inspirujących narzędzi Points Of You®
procesu, który jak ECHO pozostanie z Tobą na długo po jego zakończeniu.
Photo: Unsplash Thank you.