Warsztaty
Pokochaj swój cień
Pokochaj swój cień.
Niechciane, nieakceptowane cechy, postawy, wzorce, czy zachowania, z lęku przed zranieniem, odrzuceniem, brakiem akceptacji, zostały WYPARTE i zepchnięte do schowka, w "piwnicy" naszej psychiki. 
Tam, w ciemności, zdziczały i urosły do kolosalnych rozmiarów,stając się naszym CIENIEM. Dzieje się tak, ponieważ im bardziej coś wypieramy, tym większą dajemy temu energię, wzmacniamy to. 
Jakości, które mamy w cieniu, których nie chcemy zaakceptować u siebie, doskonale zauważamy u nich. Jak lustra, "pokazują" nam je, również bliskie osoby. Wskazują, gdzie nie chcemy "patrzeć", czym nie chcemy się "zająć". To nas irytuje. To rodzi konflikty. 
Na warsztacie:
odnajdziesz i odpakujesz swój cień,
zaakceptujesz jakości swojego cienia,
zrozumiesz i dożyjesz trudne emocje związane z cieniem,
oswoisz i zintegrujesz swój cień,
uwolnisz blokadę energetyczną swojego cienia.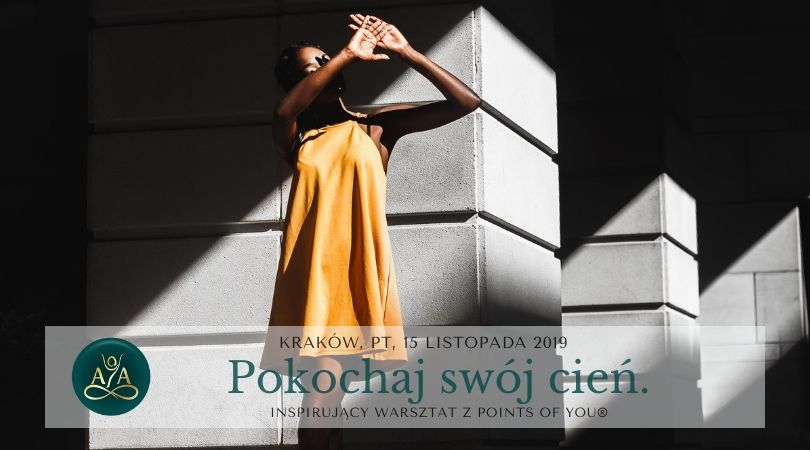 Warto zrobić porządek, "odpakować" dziecięce lęki, zaakceptować  i zintegrować swój cień, bo dzięki temu:
zyskasz wewnętrzną harmonię,
odnajdziesz zapomniany aspekt siebie,
zyskasz nową jakość,
wykorzystasz ciemną stronę swojej mocy,
zyskasz akceptację i otwartość względem siebie i innych.
Warsztat prowadzony jest w oparciu o metody:
Points Of You® – praca z podświadomością poprzez obraz, słowo i metaforę, otwiera umysł i serce, umożliwia wyjście poza dotychczasowe schematy myślenia i działania.
Soul Body Fusin® – podnoszenie energii ciała, integracja ciała i duszy, aby móc patrzeć na siebie i rzeczywistość z przestrzeni serca.
Oraz inne techniki pracy rozwojowej – oddechowe, wizualizacyjne, relaksacyjne.
Photo: Unsplash Thank you.