Warsztaty
Otrzep się z cudzych pragnień
Otrzep się z cudzych pragnień.
Autorski warsztat rozwoju osobistego dla Kobiet. Inspirujące spotkanie z Points Of You®, podczas którego, obrazy i historie z nich płynące, w sposób metaforyczny, lecz niesamowicie precyzyjny pomogą Ci:
poznać i uwolni schematy z przeszłość,
otworzyć się i zaufać sobie w teraźniejszości,
odnaleźć nowe perspektywy na przyszłość.
wzmocnisz swoją wartość i sprawczość jako Kobiety, pełniącej wiele życiowych ról.
Zapraszam, jeśli masz otwartość, by realizować swoje pragnienia i odwagę, by przyjrzeć się, swojemu głęboko zakorzenionemu DLACZEGO, DLA KOGO
sabotuję lub spycham swoje pragnienia na dalszy plan …

odbieram sobie siły krytyczną oceną …
nie dostrzegam postępów, a sukcesy to łut szczęścia …
Jeśli masz odwagę zaufać i posłuchać głosu swego serca, aby uwolnić się od tego DLACZEGO? DLA KOGO? CZY MI WOLNO? serdecznie zapraszam.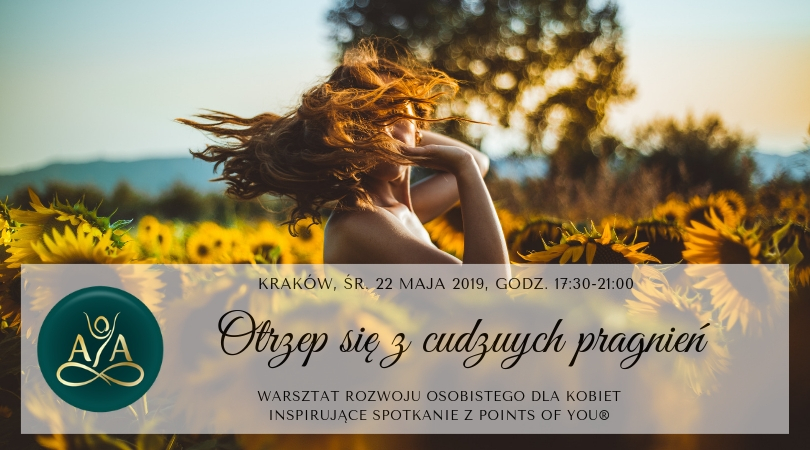 Dlaczego warto:
Głęboki proces wewnętrzny, otworzy przed Tobą nowe możliwości. A to, tylko dzięki zmianie perspektywy, poprzez obraz, metaforę oraz interakcje z innymi uczestniczkami.

Wzmocnisz swoją wartość i sprawczość jako Kobiety, pełniącej wiele życiowych ról.
Niezwykły sposób nawiązania bliskiej relacji z samą sobą pozwoli Ci otworzyć się i budować relacje, w których jest przestrzeń na realizację pragnień i celów obu stron.
Warsztat prowadzony jest w oparciu, o:
Points Of You® – praca z podświadomością przez obraz, słowo i metaforę, otwiera umysł i serce, umożliwia wyjście poza schematy myślenia i działania.
Soul Body Fusin® – proces, który ugruntowuje i harmonizuje, podnosi energię ciała, integruje ciało i duszę.
Techniki oddechowe, relaksacyjne, uwalniające, wizualizacja.
Photo: Unsplash Thank you