Warsztaty
Points Of You® Między niebem a ziemią
 Points Of You® Między ziemią a niebem
Między ziemią a niebem – mój życiowy rollercoaster.

Czyli o zadowoleniu z sukcesów a poczuciu spełnienia w życiu.

Czy zawsze to czego chcę służy mi?

Jak odróżnić chcę od pragnę?

Jak połączyć koncepcję własnego szczęścia i sukcesów z poczuciem spełnienia w życiu?
Zapraszam do refleksji i wewnętrznego dialogu między sercem a rozumem, między chcę a pragnę.
To zaproszenie, aby z metapozycji spojrzeć na swoje doświadczenia i sukcesy, jak na cenne zasoby, które ukształtowały nas i nasz system wartości. Aby zbudować most, który umożliwi wykorzystywanie ich do rozwijania własnego potencjału, w takim zakresie i kierunku, który przynosi spełnienie, a nie będzie tylko kolejnym postawionym sobie życiowym zadaniem "do odhaczenia".

To zaproszenie do przyjrzenia się koncepcji własnych sukcesów oraz wewnętrznych motywacji serca.

To zaproszenia do przestrzeni własnego serca, gdyż tylko tam jesteśmy w stanie odnaleźć spełnienie.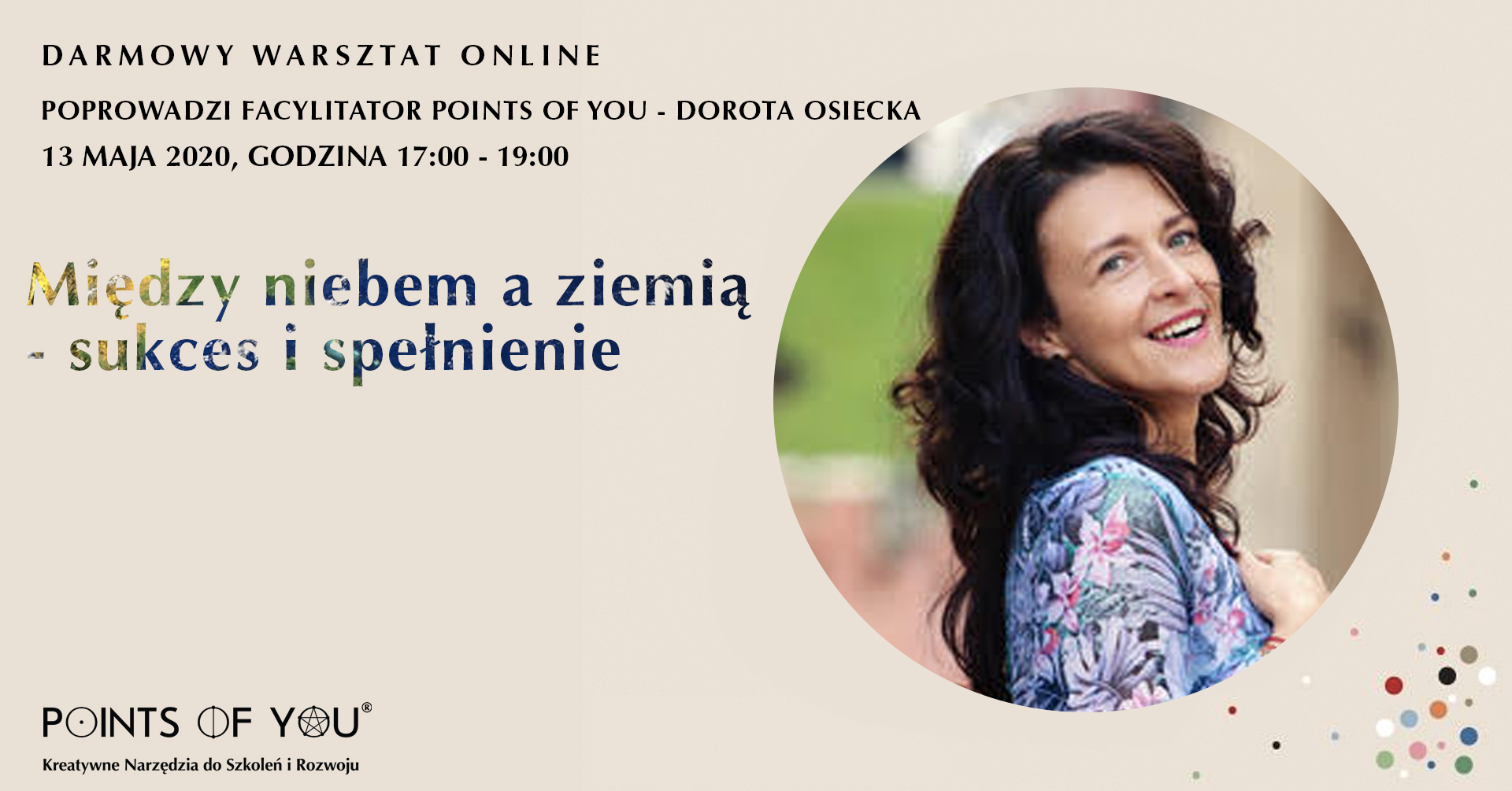 Każdego dnia dokonujesz wyborów a każdy z nich ma potencjał, aby odblokować nieskończony łańcuch możliwości i poczucie spełnienia.
Podaruj sobie odrobinę luksusu – czas dla siebie i ze sobą.

Proszę przygotuj sobie coś do picia, notes i długopis oraz narzędzia The Coaching Game oraz Faces, jeśli posiadasz – a jeśli ich nie masz nie szkodzi ja przygotuję dla Ciebie wersje online.
Points Of You®  
Points Of You® to metoda oraz kreatywne narzędzia do rozwoju osobistego wykorzystywane terapii, edukacji a także biznesie. Pracujemy z obrazem, słowem i metaforą, integrujemy prawą i lewa półkulę mózgu, aby dotrzeć do wewnętrznych motywacji człowieka, otworzyć serce i umysł na nowe perspektywy, przełamać dotychczasowe schematy, przetransformować blokady a ograniczenia zamienić w możliwości. 
Photo:  Magdalena Siry Fotografia