Warsztaty
Moja podróż w pragnienia
Moja podróż w pragnienia.
'Wszystko czego pragniesz, znajduje się po drugiej stronie strachu' Jack Canfield
Jeśli zdarzyło Ci się pomyśleć … 'Nie wiem czego chcę."
Jeśli kiedykolwiek pojawiła Ci się myśl… 'Tak długo szukam a wciąż nie wiem.'
Jeśli zastanawiasz się … 'Czy ja tego naprawdę chcę?'
… z pewnością to spotkanie jest właśnie dla Ciebie.
Za każdym pragnieniem, kryje się indywidualna potrzeba zaspokojenia jakiegoś 'czucia', potrzeba poczucia określonego stanu w sobie.  
Na warsztacie będziemy wspólnie doświadczać i odkrywać:
co jest pragnieniem naszych serc,

za jakimi potrzebami wciąż tęsknimy,
jakie zasoby (własne) potrzebujemy uruchomić, aby realizować swoje pragnienia.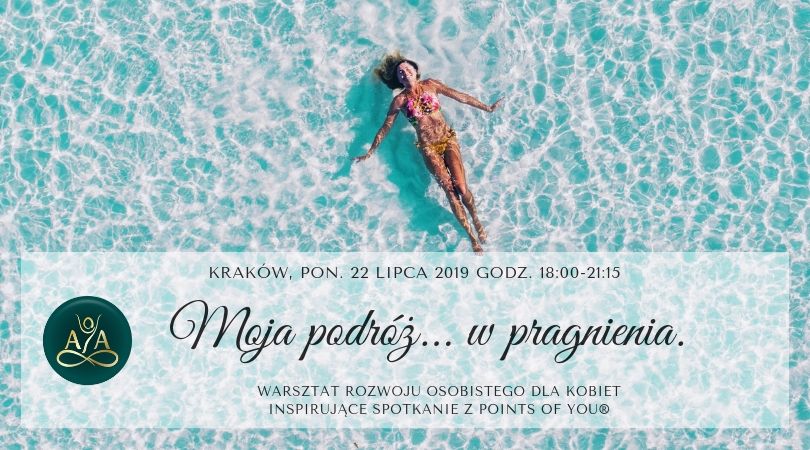 Dlaczego warto:
Poznasz pragnienia wspaniałej Kobiety, którą właśnie TY jesteś, i która ma prawo a wręcz ma obowiązek je zrealizować!

 

To nie jest to proces logiczny, ale bardzo głęboki wgląd w siebie, który pozostawi w Tobie ECHO, jeszcze długo po jego zakończeniu.
To proces, który skutecznie odkrywa to, co niewidoczne gołym okiem, inspiruje do wewnętrznych transformacji i kreowania życia jakiego pragniesz.   
Warsztat prowadzony jest w oparciu, o:
Points Of You® – praca z podświadomością przez obraz, słowo i metaforę, otwiera umysł i serce, umożliwia wyjście poza schematy myślenia i działania.
Photo: Unsplash Thank you