Warsztaty
Moja osobista podróż – 5 ważnych odpowiedzi –
Moja osobista podróż
– 5 ważnych odpowiedzi –
Jeśli pragniesz zrobić przestrzeń na NOWE, najpierw z wdzięcznością i szacunkiem należy pożegnać STARE. Ten warsztat rozwojowy to piękna podróż. Zapraszam, jeśli masz w sobie odwagę i jesteś gotowa/gotowy na OTWARTOSĆ i AUTENTYCZNOŚĆ wobec siebie.
To podróż w głąb siebie, aby odnaleźć odpowiedzi:
Co się wyczerpało…?  Co ogranicza…?  Co uniemożliwia…?  Jakie zasoby odrzucam…?  Jakie przeznaczenie…?  Od czego zależy…?  Co zapraszam…?  Co jest właciwe…?
Ten warsztat to :
Osobisty BILANS – gdzie wstawić ZAKOŃCZENIE, a czemu nadać POCZĄTEK.
OTWARTOŚĆ i AUTENTYCZNOŚĆ wobec siebie.
Podsumowanie roku z perspektywy ODCZUĆ i EMOCJI.
ODWAŻNE pytania i śmiałe odpowiedzi z głębi serca.
Zaskakująca rozmowa z własną PODŚWIADOMOŚCIĄ.
Randka z własnymi myślami, którym nie zawsze pozwalamy zaistnieć.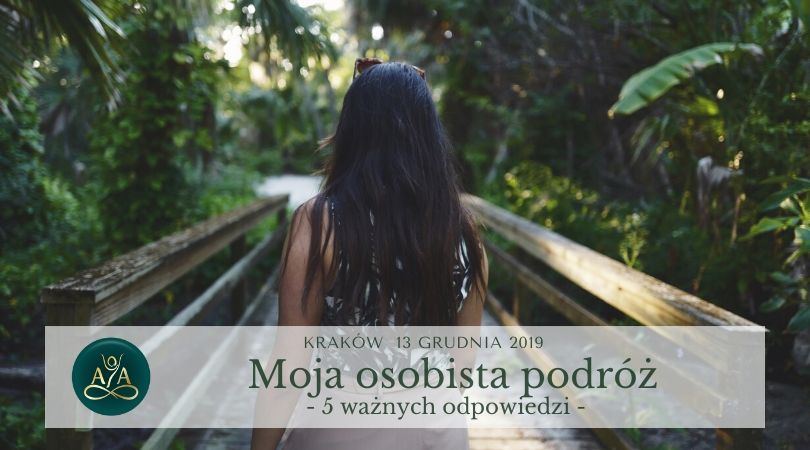 Warsztat prowadzony jest w oparciu o:
Points Of You® – praca z podświadomością przez obraz,słowo i metaforę, otwiera umysł i serce, umożliwia wyjście poza schematy myślenia i działania.  
Soul Body Fusin® – podnosi energię ciała, integruje ciało i serce/duszę, ugruntowuje i harmonizuje.
Mindfulness oraz inne techniki oddechowe i wizualizacji.
Inspirująca, głęboka i emocjonująca podróż, w głąb siebie i swojej podświadomości, z Points Of You®.
To warsztat głębokich wewnętrznych transformacji. Proces, który pozostawi w Tobie echo jeszcze długo po jego zakończeniu.
To warsztat patrzenia z poziomu serca i praca na emocjach. Proces, dzięki któremu przejdziesz swoiste oczyszczenie, aby odzyskać siebie, swoją życiową energię. 
Photo: Unsplash Thank you.